The staff at Augusta Apparel & Shoe Plant is committed to providing a positive workplace that develops and sustains job satisfaction, while equipping inmates with the job skills necessary for re-entry into society. The production is dedicated to manufacturing quality apparel & shoes at a competitive price.
Apparel
The plant produces 30+ apparel designs in multiple colors.
85 inmates are employed in the following positions:
Machine operators
Product cutters
Quality control inspectors
Leadman facilitators
Machine mechanics
Safety stewards
Custodians
Officer styles include:
Men's and women's BDU pants
B&G pants
Tactical pants
Food service pants
Maternity pants
Insulated and non-insulated coveralls
Inmate styles include:
Jumpsuits
Scrub shirts and pants
Transportation outfits
Inmate release pants
Visitation jumpsuits
Adjustable waist DDJ pants
Kitchen pants
Shoes
The plant produces footwear used in the prison system and for non-profit organizations.
70 inmates are employed in the following positions:
Leather & rubber die cutters
Machine operators (sewed & vulcanized)
Footwear refurbishers
Leadman facilitators
Machine mechanics
Safety stewards
Custodians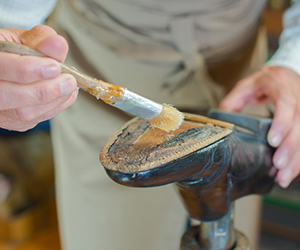 Products include:
Boots
Belts
Shoes
Insoles
Socks
Towels
Storage Bags